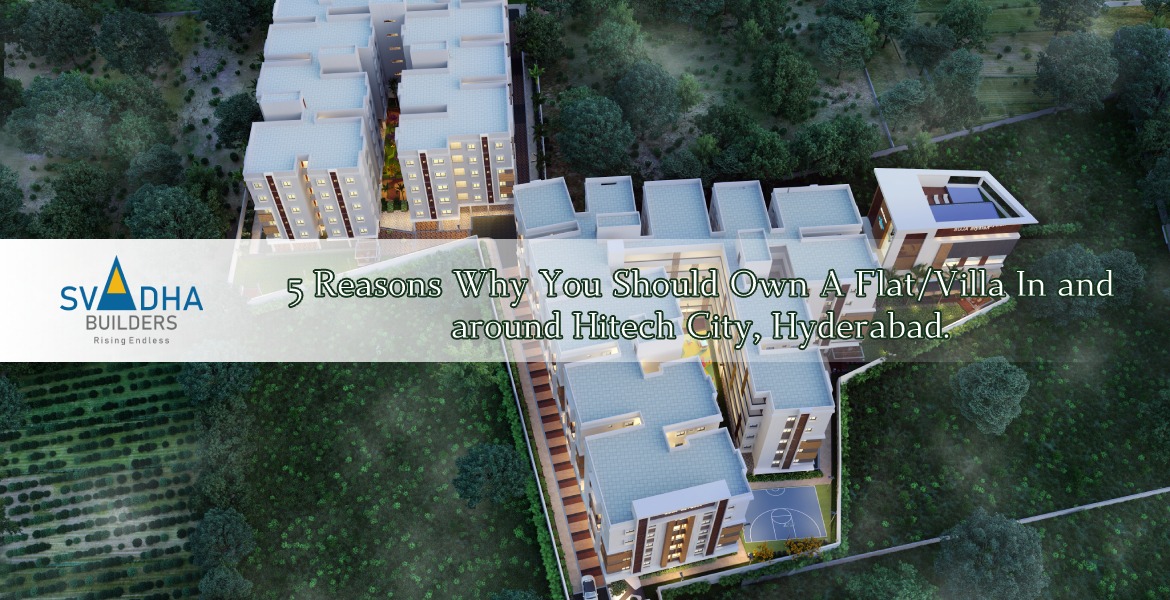 5 Reasons Why You Should Own A Flat/Villa In and around Hitech City, Hyderabad.
Hyderabad is a Metropolitan city welcomes to all different region people to live with their dreams and aspirations. The city has a charm indeed! One of the best part of it is Hitech City. Having a house in a fast-pacing city like Hyderabad is an achievement in itself. Hitech city happens to be one of the brightest areas in India, If you are looking for a house to purchase and mystify about the location then confirms that Hitech city is going to be your best choice. Let me give you five focal facts to bag you a house at Hitech City in Hyderabad
> Hitech city is the nerve center of IT companies in Hyderabad and has good road connectivity with top IT cluster areas like Madhapur, Gachibowli, Outer ring road, well connecting us through metro rails, taxi and RTC buses.
> A number of prestigious private cbse schools happen to site a place in Hitech city like Ambitus, Creek and Orchids the International Schools, etc.
> For the amusement of kids and relaxed weekends for adults, Wonder la,Dream Valley, Treasure island are located closely.
> Elders say "Health is wealth" and all will agree! A number of multi specialty hospitals and many others are located at all across Madhapur. So next time your child sneezes or your knee hurts, you know where to go.
> Last one but not least, if you are looking for a house in proximity to IT corridor, Hitech city is the right and final destination for you. A large number of companies like Microsoft, Infosys, Oracle, Wipro, Aurobindo, Dr. Reddys, ICICI Bank and TCS are situated within surroundings.
Madhapur can be called " the Venice of Hyderabad ", considering lakes around. Imagine a hectic day ending with a secrete lake view with hot coffee or ice cream nearest visile distance to your home. After all, it's not only a dream house but also an investment for your future too. If you really dream it, achieve it!
Copyrights © 2020 Svadha Builders